On the 01st April 2020, the release regime for offenders convicted of qualifying offences, who receive sentences of 7 years or more was altered. During a recent seminar, held as part of the 18 St John Street Seminar Programme, Colin Buckle considered this important change in the law and the associated release provisions.
The (Alteration of Relevant Proportion of Sentence) Order 2019 will unarguably have a significant impact upon offenders who, following sentence, are subject to these release provisions.
During the seminar, Counsel Mr Buckle also considered other release provisions, especially those that remain firm in the release regime and remain unaffected by the change in the law as of the 01st April 2020.
You can read notes from the seminar here: CDB When Will I See You Again Seminar Notes June 2020
---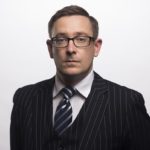 Colin Buckle is a member of the Criminal Department at 18 St John Street. If you have any queries about this or any other related subject, please feel free to contact us on our usual contact details and we will be delighted to assist you.
As part of an ongoing commitment to provide relevant and informative content to clients, 18 St John Street are pleased to run regular training and webinar sessions. Check our Seminar page for our current programme of events – including our next Criminal Seminar on 'Tricky POCAs and How to Manage Them'.