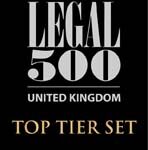 18 St John Street has received a 'top tier' ranking in the 2022 and 2023 Legal 500 Directories for Family Law, the latest of which praises 18SJS for its 'superb family department'.
For over 30 years the family team at 18 St John St Chambers has been providing a quality service to clients and is now one of the most highly regarded teams on the Northern Circuit. Our experienced and dedicated counsel undertake work at all levels across all areas of law involving children, families and finance. Whatever your need we are able to match you with counsel, both leading and junior, who will ensure that you receive the very best representation.
As a family team we are aware that we are representing people in difficult and sensitive situations and we pride ourselves on our approachability and expertise. Our ethos is to provide a service which combines expert legal advice with the practical common sense that is often required to ensure that our clients achieve the best possible result. Our instructing solicitors value the fact that we offer the highest quality range of counsel, with a wide range of specialism, and are always focussed on meeting our clients' needs and expectations. This is why we are the first choice of solicitors who want the very best outcome for their client.
This approach extends to our highly experienced clerking team who are renowned for 'going the extra mile' to ensure our clients' requirements are fully met despite the pressures of diary management. Excellent client care is at the heart of everything we do.
Ensuring that we are always at the cutting edge of developments in law and practice is one of our priorities, meaning that we are one of the leading providers of training for other pro-fessionals in the North West area. We host regular seminars in-house as well as responding to requests from other professional bodies to address specific training needs. We extend this expertise into the cases involving complex, difficult and novel areas of law in which our counsel are frequently instructed.
As well as receiving instructions from the solicitors representing the interests of all parties in family cases, a number of our counsel accept direct access instructions and any enquiries should be made via our clerks.
The 18 St John Street team include a number of counsel who sit part-time as Recorders, Deputy District Judges and Tribunal Judges.
Our counsel specialise in the following areas of law:
•  Public Law Children Act
•  Private Law Children Act
•  Adoption
•  Wardship
•  Forced Marriage Protection Orders
•  Female Genital Mutilation Protection Orders
•  Surrogacy and issues relating to same sex parents pursuant To HFEA.
•  Child Abduction
•  International Relocation
•  Judicial Review
•  Divorce
•  Domestic Violence Injunctions
•  Financial Remedy Proceedings
•  Recovery and Preservation of Assets
•  Cohabitation Disputes including TOLATA claims
•  Inheritance Act
•  Court of Protection
•  Deprivation of Liberty
•  Secure Accommodation
Seminars
We offer in-house seminars, typically on a weekday at 5pm. All our speakers are accredited by the Bar Council and The Law Society.