There are only a few more days to go until we reach the number 1 blog of the year, at number 7 we have the blog announcing Kane Simons as a newly appointed Deputy District Judge.
Appointments to the role are made by the Lord Chancellor on the advice of the Judicial Appointments Commission, and through open recruitment. Kane will sit as a Deputy District Judge on the Northern Circuit in addition to his practice in chambers.
To read the full article and more about Kane Simons please click here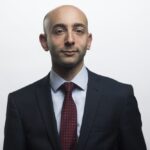 ---
At number 6, another great achievement here at 18 St John Street Chambers, Christopher McNall joined the Board of International Association of Tax Judges.
He joins judges from as far afield as South Korea, Australia, the US, and Poland in directing the work of the Association.
To read the full article click here.
For more information on Christopher McNall please contact a member of our Business and Property Clerking Team on 0161 278 8261 or email businessproperty@18sjs.com