We are pleased to announce that Anaya Ricketts, who completed the Bar Placement Scheme with us at 18 St John Street, has written a blog which has been chosen as the winner of a Bar Council competition (North category).
Anaya attended 18 St John Street in July 2022. Throughout her four day mini-pupillage Anaya (alongside two other candidates) really got to experience what life at the Bar is really like through shadowing members of Chambers and speaking with the Barristers' clerks and support staff.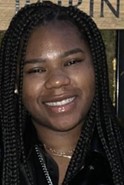 Anaya witnessed a variety of conferences and hearings within our Crime, Family, Personal Injury and Business & Property teams. Anaya ended her award-winning blog post by saying: "This week has shown me that life at the Bar is meaningful, rewarding and for everyone. The 'Bar Placement Week' has provided me with an answer to the question that was lingering in the back of my mind.
Life at the Bar is for me and it could be for you too". 
Leonie Caplan, Head of Recruitment Committee said: "The Bar Placement scheme, alongside Chambers Mini Pupillages, continues to provide talented and passionate candidates with access to Chambers and shows them an insight as to what we do and how we manage Chambers. Anaya has done us proud by writing this blog and we are very grateful to her".
Head of Chambers, Richard Chapman QC, commented: "The future of the Bar is very close to our hearts. Providing insight, training and mentoring to the next generation is something 18 St John Street prides ourselves on since our formation in 1973. I believe that the scheme is an enlightening and important programme to help students decide their career paths. It is absolutely brilliant to see Anaya has enjoyed her time here and has written so eloquently and won the top spot. We look forward to watching her future progress at the Bar."
Please see the full article here: Blog: Bar Placement Scheme 2022 (barcouncil.org.uk)
---
For more information on Mini Pupillages at 18 St John Street Chambers, please look at our website for details: Careers / Pupillage – 18 St John Street Chambers (18sjs.com) or contact Chambers Director, James Parks.