18 St John Street Chambers are delighted to announce that Michael Brady has been appointed Queen's Counsel.
It has been announced today that, on the recommendation of The Lord Chancellor, Her Majesty The Queen has appointed Michael Brady to be Queen's Counsel.
Sir Alex Allan, Chair of the Selection Panel, said in today's press release: 'I am delighted at the announcement of the new silks. I congratulate each one of them…Each year, the Panel has the difficult task of identifying the truly excellent advocates.  I am confident that those appointed today truly deserve to be Queen's Counsel.'
Michael will formally take silk when he makes his declaration before the Lord Chancellor at a ceremony on 16 March 2020 at the Palace of Westminster.
Senior Clerk John Hammond said: "On behalf of everyone at Chambers, I would like to congratulate Mr Brady on his well-deserved elevation to silk."
---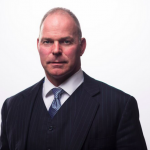 Michael Brady is a member of the Criminal Department at 18 St John Street Chambers. For more information, please click the links above or contact a member of the criminal clerking team on 0161 278 8262 or via email crime@18sjs.com