18 St John Street Chambers has further strengthened its Family Team as it welcomes John Chukwuemeka as a new member from 1st October 2019.
John was called in 1994. He joins chambers from St John's Buildings and brings with him a wealth of experience in children cases, representing local authorities, family members, intervenors and the Official Solicitor along with children in both public and private law.
The family team at 18 St John St Chambers consistently provides quality service to clients and is one of the most highly regarded teams on the Northern Circuit. Our experienced and dedicated counsel undertake work at all levels across all areas of law involving children, families and finance. Whatever your need we are able to match you with counsel, both leading and junior, who will ensure that you receive the very best representation.
---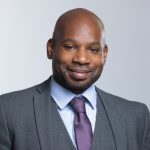 John Chukwuemeka is a member of the Family Law Department at 18 St John Street Chambers. For more information, please click the links above or contact a member of the family clerking team on 0161 278 8263 or via email family@18sjs.com