Colin Buckle successfully prosecuted a male following a series of violent assaults on his partners.
'Thug jailed for attacks on partner'
The defendant, who has a history of violence in relationships, assaulted his current partner at their home by knocking her to the floor and causing her to fracture a rib as she fell into the bath. The attack continued when the defendant caused the victim's head to be rammed into a door resulting in two black eyes.
The defendant was jailed for 2 years and 2 months. While sentencing, His Honour Judge Gioserano told the defendant:
"If you should resort to violence against any future partner you should expect sentences to just get longer and longer until you get the message."
The matter is reported on local news site 'This is Lancashire'.
---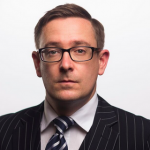 For further information on Colin Buckle and other members of the Criminal Department, please contact a member of the criminal clerking team on 0161 278 8262 or crime@18sjs.com.