At 18 St John Street we are committed to being at the cutting edge of technology and are proud to manage and sponsor an upcoming talk – The European Circuit, Manchester Law Tech Event: Legal Technology and its Applications and Implications for Regulation and Practice.
If the COVID-19 pandemic has taught us anything, it is that technology enables us to find new ways of doing business and delivering justice. The different applications, implications and ways of regulating legal technology are far from settled, but with change already upon us, now more than ever lawyers need to keep apace with law tech developments and understand the dangers, risks and benefits they pose.
The European Circuit of the Bar is a cross-border association of lawyers ever keen to explore the regulatory and practice implications posed by cross-border phenomena. On Wednesday, 17 June 2020 at 16.30 GMT the European Circuit will host the Manchester Law Tech Talk over Zoom which will be chaired by Manchester's Circuit Commercial Court Judge, His Honour Judge Richard Pearce.
To register for the event, please click here or on the image below: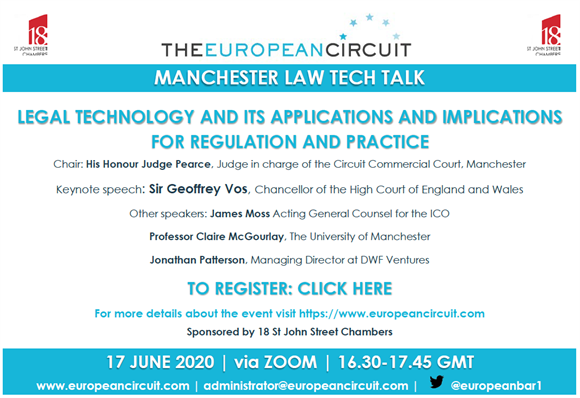 ---
As part of an ongoing commitment to provide relevant and informative content to clients, 18 St John Street are pleased to run regular training and webinar sessions. Check our Seminar page for our current programme of events – including our next Criminal Seminar on 'Tricky POCAs and How to Manage Them'.