Jonathan Jackson represented the respondent father in care proceedings today in the first hearing at the Manchester Civil Justice Centre since the lockdown where everyone attended in person.
Before the hearing, a case plan was prepared by the court setting out where parties were to sit in court and when to arrive. The court specified times of entry to the building for parties to ensure security was not overloaded. Conference rooms were reserved and limited to a maximum of two persons per room.
Where possible, courtrooms were used for pre-hearing discussions between advocates to ensure that social distancing was maintained. In court, advocates were spread across the front two benches to ensure maximum distancing, with clients sitting at the sides or to the back of the court.
HMCTS are due to release risk assessments for court buildings tomorrow. This does not mean that all hearings will return to being in person immediately or any time soon. However, it is highly likely that some hearings will take place in person.
Of course, it remains the case that how a hearing should take place will have to be determined on a case-by-case basis. We anticipate further guidance on determining which hearings are suitable to take place in person.
---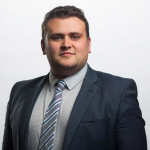 Jonathan Jackson is a member of the Family Department at 18 St John Street Chambers. If you have any queries about this or any other related subject, please feel free to contact us on our usual contact details and we will be delighted to assist you.