We are delighted our recent article on e-bikes and e-scooters and the law, written by Kane Simons, has been published in the latest edition of PI Focus from APIL (the Association of Personal Injury Lawyers), making the front page!
Moving with the Times
The Covid-19 pandemic has seen demand for electric bicycles and new forms of transport soar as commuters seek alternatives to crowded public trains and buses. In July, electric scooters were legalised for use on British streets. In his article, Kane Simons considers the law of electric bikes, scooters and other personal transporters and the impact that their increased use will have on the field of personal injury.
The article can also be read in our blog archive at: https://www.18sjs.com/e-bikes-e-scooters-law-need-know/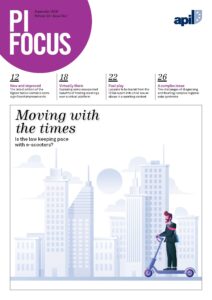 The Association of Personal Injury Lawyers (APIL) has been fighting for the rights of injured people for almost 30 years. It is a not-for-profit campaign organisation consisting of 3,100 member lawyers (mainly solicitors, barristers and legal executives) who are dedicated to protecting and enhancing access to justice, improving the services provided for victims of personal injury, and campaigning to change the law wherever appropriate. Over the years, APIL has grown to become the leading, most respected organisation in this field, constantly working to promote and develop expertise in the practise of personal injury law, for the benefit of injured people.
---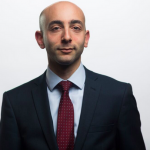 Kane Simons is a member of the Civil and Personal Injury Department at 18 St John Street Chambers. Kane practises in serious personal injury, with a speciality in accidents involving cyclists and motorcyclists. For more information, please click the links above or contact a member of the civil clerking team on 0161 278 8261 or via email civil@18sjs.com