18 St John Street is proud to support the Child Brain Injury Trust / Partners in Cost Manchester Treasure Hunt on Wednesday 19th July.
The CBIT / PIC Manchester Treasure Hunt takes place across the historic Spinningfields and Castlefield areas of the city. PIC's Adrian Hawley has organised the route and added an ancient-Roman twist to the event.
Expect Roman-themed questions and several clues to solve as entrants make their way around the area. There will also be a picture round, a selfie round and added points for fancy dress – dig out those togas!
The hunt starts at JMW in Spinningfields at 5pm and 18 St John Street Chambers will be providing refreshments at the half-way stage. The route finishes in Castlefield, where participants can enjoy the hospitality of HCC Solicitors.
For details on how to enter, see the PIC website: https://www.pic.legal/cbit-pic-manchester-treasure-hunt/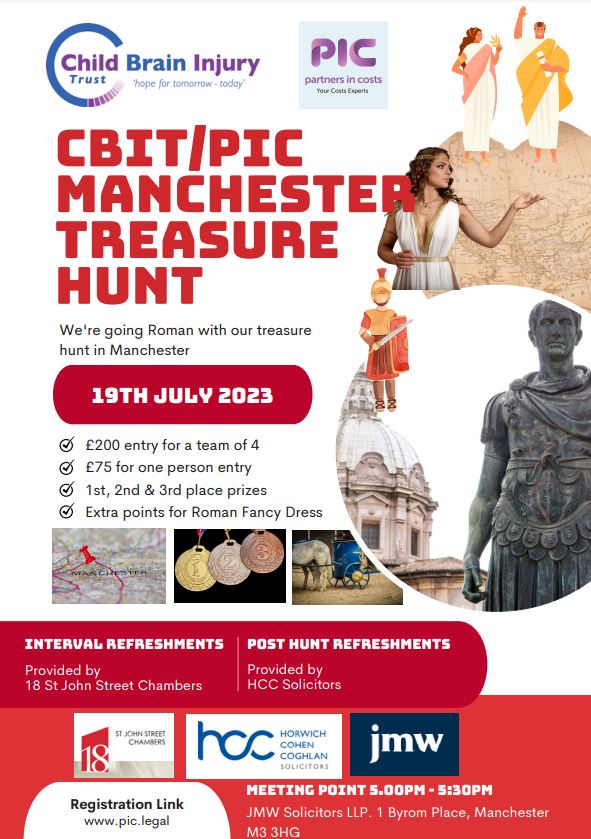 The Child Brain Injury Trust was established by a group of health professionals in 1991. It's aim is to research and provide information regarding the effects of 'traumatic' injury on a child's developing brain.
Parents of children with acquired brain injury were keen to become actively involved with the charity. Over time, the emphasis on the work changed.
Today the Child Brain Injury Trust is the leading voluntary sector organisation providing emotional and practical support, information and learning opportunities for families and professionals affected by childhood acquired brain injury across the UK.
Partners in Costs are Legal Costs Professionals specialising in Clinical Negligence and Catastrophic Injury. Established in 1996, PIC provide dedicated and bespoke solutions, specialising in personal injury claims, ranging from clinical negligence to catastrophic injury, as well as dispute resolution claims.
---
For further details on 18 St John Street Chambers and the services Chambers provides please contact Chambers Director James Parks.