Oliver Caplan, barrister at 18 St John Street Chambers, represented the Defendant upon a Summary Judgment application in the recent case of Commerz Real Investmentgesellschaft mbH v TFS Stores Limited [2021] EWHC 862 (Ch).
Mr Caplan faced Gary Cowen QC of Falcon Chambers in the High Court.
The tenant holds a five-year lease of a unit within the UK's largest shopping centre – Westfield, Shepherd's Bush, London. The tenant ceased trading several times over the past year as a consequence of the COVID-19 pandemic and failed to pay rent and service charge liabilities, citing loss of income as a reason.
The landlord/claimant issued a claim for rental and service charge arrears amounting to £166,884.82 (inclusive of VAT) and interest at the contractual rate.
Mr Caplan argued that the claim was issued prematurely contrary to the Code of Practice for Commercial Property Relationships During the COVID-19 Pandemic. Also, that the claim was a means of circumventing measures put in place to prevent forfeiture, winding up and recovery, and pursuing it was exploiting a "loophole" in the restrictions placed upon the recovery of rent put in place by the Government. Mr Caplan additionally argued that the claimant was obliged to maintain insurance for loss of rent resulting from a notifiable disease and/or government action and had to claim under the loss of rent insurance policy before commencing proceedings to recover rent. And that the rent cesser provisions in the lease, properly construed, applied to the COVID-19 pandemic which amounted to a suspending event for the purposes of the lease.
The Judgment has since been cited in a further case addressing similar points of law and fact.
The full case details can be read here: https://www.bailii.org/ew/cases/EWHC/Ch/2021/863.html
---
Oliver Caplan undertakes a wide range of advisory, drafting, mediatory and advocacy works dealing with high-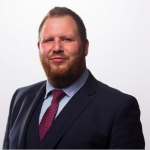 value and complex matters.
Oliver regularly appears in the High Court, County Court and Land Registration and Residential Property Tribunals.
Oliver's practice is primarily focused upon real property, landlord and tenant, social housing, trusts of land, contract, company, consumer credit, partnerships, personal and corporate insolvency, wills and trusts, contentious probate, court of protection, professional negligence, banking, sale of goods and sports.
For more information on Oliver Caplan please contact a member of our Business and Property Clerking Team on 0161 278 8261 or email businessproperty@18sjs.com