18 St John Street Chambers are delighted to announce that Paul Treble has joined the Criminal Department.
Paul joined Chambers in January 2020. A science graduate, Paul came to the bar via the private sector working with a number of FTSE 100 companies such as British Airways, Glaxo and NatWest.
He was called to the bar in 1994 and deals with Criminal Law, Military Proceedings, Regulatory & Disciplinary Law and Inquests. He has prosecuted and defended some of the most serious cases on circuit has carved a niche in cases involving vulnerable clients and complainants. He was the one of the first counsel to conduct a trial under the vulnerable witness procedure ("section 28" cases).
Paul also practises in the Coroners' Court. His scientific background has helped enormously with him adapting to the inquisitorial system and in particular with the wealth of scientific evidence in such cases.
---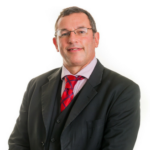 Paul Treble is a member of the Criminal Department at 18 St John Street Chambers. For more information, please click the links above or contact a member of the criminal clerking team on 0161 278 8262 or via email criminal@18sjs.com