Richard Chapman has officially been appointed Queen's Counsel in a ceremony before the Lord Chancellor in London today (Monday 11th March).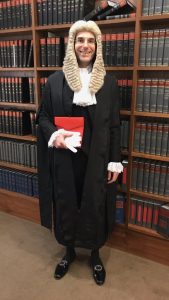 Lord Chancellor David Gauke MP, on behalf of Her Majesty The Queen,  presented Richard Chapman with his Letters Patent in a ceremony at Westminster Hall.
'The award of the title of Queen's Counsel is recognition of the depth of expertise and eminence in their fields. It is this expertise that gives the English legal system its world-leading reputation.'
Queen's Counsel are appointed by The Queen, on the advice of the Lord Chancellor. He is in turn advised by an independent Selection Panel which receives and considers each application and makes recommendations as to appointment.
Sir Alex Allan, Chair of the Selection Panel commented when the appointments were announced in January: 'Each year, the Panel has the difficult task of identifying the truly excellent advocates. I am confident that those appointed today truly deserve to be Queen's Counsel.'
Congratulations Richard, from all at 18 St John Street!
---
Richard was called to the bar in 1998 and specialises in all areas of Business and Property Litigation including disputes relating to commercial law, chancery, contracts, company, insolvency, directors' duties, insurance, professional negligence, partnership, landlord and tenant, trusts, succession and probate. He also specialises in Tax and VAT litigation.
Richard has appeared in the European Court of Justice, the Supreme Court and the Court of Appeal.
Click here for more details on his practice or contact the clerks on 0161 278 1800 or civil@18sjs.com