100 years ago today, Ivy Williams became the first woman to be called to the Bar.
Williams was a teacher and writer with a lifelong connection to Oxford University. Although she never practised as a Barrister, she was the first woman to teach law at a British university and she provided an example to large numbers of women, establishing a springboard from which the modern profession has developed to allow men and women to enter the Bar in equal numbers.
Ivy Williams was born in Devon in 1877 and educated privately. Her parents were Emma and George St Swithin Williams. Her father was a solicitor. Her brother Winter Williams became a barrister. Ivy faced huge challenges in becoming the first woman to be called to the English Bar, she studied law at the Society of Oxford Home Students (later St Anne's College). By 1903, she had completed all her law examinations, but was prevented by the prevailing regulations concerning the qualification of women at Oxford from enrolling or receiving her BA, MA and BCL until the regulations were reformed in 1920. She obtained LLB from the University of London in 1901, and LLD from the same university in 1903.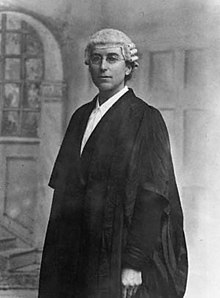 After the Sex Disqualification (Removal) Act 1919 came into force in December 1919, which abolished the prohibition on women becoming barristers, she joined the Inner Temple as a student on 26 January 1920 after Theodora Llewelyn Davies.
She was called to the bar on 10 May 1922,having received a certificate of honour (first class) in her final bar examination in Michaelmas 1921 which excused her from keeping two terms of dinners. Her call to the bar was described by the Law Journal as "one of the most memorable days in the long annals of the legal profession".
She was soon followed by other women, including Helena Normanton who became the first Kings Counsel.
Ivy did not enter private practice, but taught law at the Society of Oxford Home Students from 1920 to 1945. In 1923 she became the first woman to be awarded the degree of DCL (Doctor of Civil Law) in Oxford for her published work, The Sources of Law in the Swiss Civil Code. In 1956 she was elected an Honorary Fellow of St Anne's College, Oxford.
She enjoyed tennis, travelling, gardening, and driving. She learned to read Braille after she began to lose her sight in later life, and she wrote a Braille primer which was published by the National Institute for the Blind in 1948.
She died in Oxford in 1966 having left a long last legacy and reputation as a quite extraordinary woman..
In 2020 barrister Karlia Lykourgou set up the first outfitter dedicated to offering court wear for women. She named it Ivy & Normanton, in honour of Williams and Helena Normanton KC.
A blue plaque to Ivy's memory was installed on her home at 12 King Edward Street, Oxford on 21 September 2020.
The Bar Council Data Report and BSB Diversity at the Bar Report published in 2020 identified a big gender pay gap but pleasingly that progress is being made especially in respect of gender equality and a huge part of this is down to Ivy's drive and ambition.
Of the 17,432 barristers registered in December 2020, 38.2% were women.
There is still work to be done as there is still a huge imbalance amongst our QC numbers with only 16.8% of the 1,870 QC's being women. Change we hope is coming and parity achievable as the latest intake of pupils in 2020 (354) were split equally between men and women.
Giant strides have been made over the 100 years since Ivy became the first woman at the bar, there will be more remarkable achievements and further signs of the equality, diversity and inclusion as the bar, the law and society in general continues to address the balance.
In October, 18 St John Street Chambers celebrated becoming a female majority chambers. We will now press on with new initiatives in an effort to become more inclusive, more diverse and ensure equality across the board.
---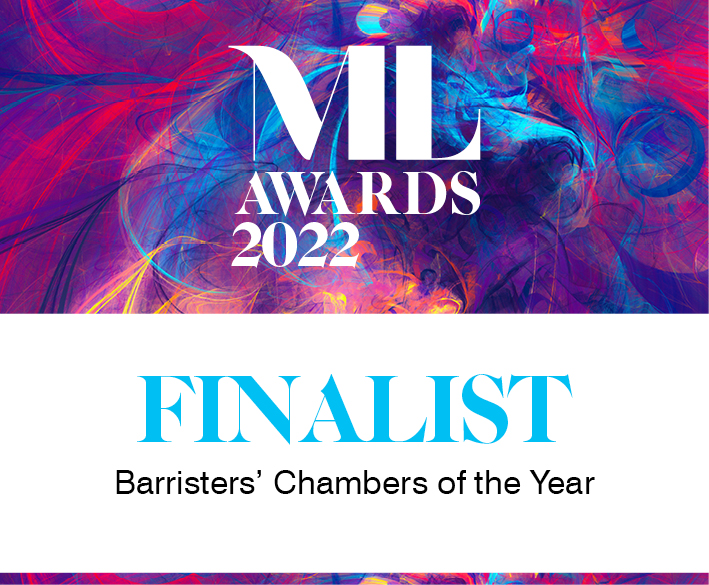 18 St John Street Chambers are delighted to announce that we have been shortlisted alongside Deans Court Chambers and St John's Buildings for the prestigious "Barristers' Chambers of the Year" award.

The Manchester Legal Awards ceremony takes place on 9th June at the recently refurbished Midland Hotel. The awards celebrate the plethora of legal talent in and around Manchester. The City has continued to attract some of the country's best law firms, solicitors and barristers and has one of the strongest legal communities in the country.