The barristers at 18 St John Street are delighted to announce that Niamh McGinty and Zara Nawaz have accepted invitations to join Chambers, following the successful completion of their pupillages.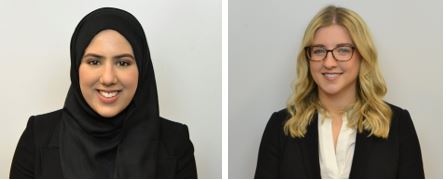 Zara joins the family department and Niamh joins the criminal department.
Zara's pupillage was under the supervision of Fergal Allen. In addition, she has spent time with a number of other experienced family practitioners. She is building experience in public and private family law, in which she already has a strong grounding. Prior to commencing pupillage, Zara was a paralegal at AFG Law, an award-winning solicitor's firm based in the North West. She also volunteered at Support Through Court (formerly Personal Support Unit), providing practical and emotional support to vulnerable clients involved in family and civil litigation.
Niamh's pupillage was under the supervision of Paul Treble. She has observed and assisted on a wide range of criminal cases for both Prosecution and Defence including murder, drug supply and serious sexual and violent offences. Niamh has worked as a Court Clerk at Minshull Street Crown Court where she gained invaluable insight into the Criminal Justice System and during Bar school, she was employed as a Serious Injury Paralegal at Irwin Mitchell Solicitors which enabled her to gain experience within civil proceedings and develop crucial transferable skills, such as the forensic analysis of complex evidence.
Head of Chambers' Pupillage Committee, Leonie Caplan said: "I am delighted that Zara and Niamh will be joining Chambers. Their star quality was obvious to the pupillage and recruitment committee when they applied, and it has been very pleasing to see that our confidence in them was not misplaced. They have acquitted themselves admirably during their pupillages and will, I know, go on to have very successful careers."
Head of Chambers, Richard Chapman QC commented: "Zara and Niamh have both excelled during their pupillage. The feedback received has been of the highest quality. I wish them all the very best on becoming full members of Chambers and look forward to watching their careers go from strength to strength."
All at 18 St John Street wish them both the best for the future.
---
For more information, please call us on 0161 278 1800 or contact us by email Family@18sjs.com or Crime@18sjs.com and a member of the clerking team will be happy to help you.